Hello fellow SLPs! Today is a special day for me as I share my next project with you: The Back To Work Series! Just over 6 months ago I launched Honeycomb Speech Therapy and the Home Sweet Home Series with a hope that other SLPs would also see the need for person-centered, functional therapy activities: I have been surprised, thrilled, and fueled to hear from so many of you that are ready to #tosstheworkbooks and #fliptherehabmodel. Let's keep moving towards saying goodbye to generic goals and worksheets, and HELLO to rich communication, life participation, and real-life improvements!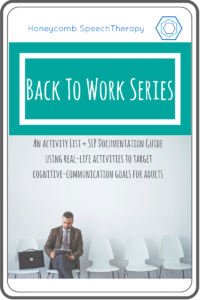 I am thrilled to share the Back To Work Series with you! During the past 9 years I have worked with a variety of people who have been able to return to some sort of work: From grocery stockers, engineers, and pastors, to dog trainers and factory workers. Standard worksheets, card games, or computer games just don't meet the needs to prepare someone for the real-life task of returning to work! The Back To Work Series was created for SLPs to use in therapy, in order to focus on skills, strategies, or accommodations that each person will uniquely need for his or her job.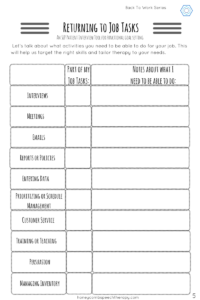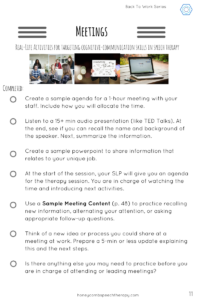 The Back To Work Series is a 58-page downloadable activity book all about the skills someone needs to get Back To Work! Evidence shows that language and cognition need to be addressed in a functional context– so here is an easy way to customize your therapy for any job task. Each section allows you a way to practice skills or strategies and plan accommodations that will be needed for someone's job.  Activities are grouped by topic, so you can choose a relevant topic for each person and use that topic to address a variety of cognitive-communication goals or strategies. Did I mention therapy printables such as sample meeting agendas, emails, phone calls, and data to sort?
Each Back To Work Series topic includes Activities with person-centered language to make it customizable, Strategies & Accommodations, and a Documentation Guide for ideas on how to target an activity toward a specific language or cognition goal. Topics include: Interviews, Meetings, Emails, Reports or Policies, Entering Data, Prioritizing or Schedule Management, Customer Service, Training or Teaching, Persuasion, and Managing Inventory. This workbook is highly useable and adaptable for a variety of patients who hope to resume some sort of independence with the multiple levels of the job tasks listed.
Purchase is set to 2 downloads, for viewing and print ability from 2 devices. I like to print on stock paper and put in laminated sheets for best durability (and easy copying)!

Let's do some real-life therapy!
(psst: If your patients tend to be lower-level and without a goal of returning to work, the Home Sweet Home Series may be the solution you are looking for! There are so many ways to add meaning, communication, and purpose to someone's life through home tasks!
If you want both the Back To Work Series AND the Home Sweet Home Series, be sure to check out the Combo Deal!)