Happy Thanksgiving Week! In the spirit of thankfulness and giving back, today I am sharing a comprehensive and FREE 20-page Packet with you! Details below.
In case you missed Medication Management: Real Life Speech Therapy, The "Real Life Speech Therapy" series will focus on activity and participation of specific tasks, with tools for the everyday SLP to use across assessment, goal-setting, therapy, external language and cognitive supports, and home program.
If you've ever finished a worksheet, card game, or another task in therapy and wondered to yourself, "How did this task help my patient function better this week?", this series is for you.
Real Life Speech Therapy series: Cooking!
Using a person-centered focus not only fulfills best practices across general healthcare trends, but it is also a best practice within our own speech pathology research. Best practices show therapy needs to be relevant, in-context, person-centered, and making improvements in everyday life.  Did you know that for both language and cognition skills, practicing skills in context is recommended for carryover to everyday use? That means we need to move away from generic worksheets and card games, and instead focus on language and cognitive skills and strategies that will be used in someone's everyday life.
Today's cooking topic was inspired by this article: What do people with aphasia want to be able to say?
*Hint: It's NOT animal names or bedroom furniture or opposites! After people, food and drink is next on the list! Let's use relevant prompts to elicit the words and skills that are person-centered!
Fabulous Freebie: The 20-page Cooking: Real Life Speech Therapy packet is full of printables you can use immediately to focus on functional improvements. (Just click the link or go to the "store" to get it at no cost!)
–Assessment Checklist to quickly identify skills needed for food and cooking topics
–Functional Goal-Setting Examples (11 specific to cooking and food!)
–Therapy Tasks (25+ ideas to use in therapy, using cooking and food topics as a real life tool to challenge various cognitive-communication skills in isolation and in-context).
–External supports for language and cognition specific to the task of grocery lists, using the stove, etc. See Below for inspiration!
–Functional Home Program Template
Download the Cooking Packet and get free printables that are evidence-based supports for language and cognition goals, but can also be customized to be person-centered. Examples:

1.  Oven On / Off as an external cognitive support for improving safety / memory of using oven. Perhaps use spaced retrieval to train using a support like this.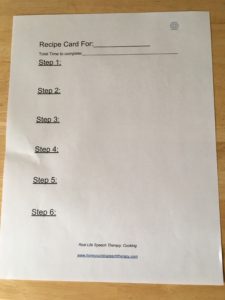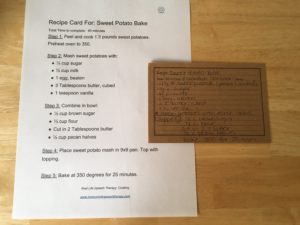 2. Environmental modification of recipes: Increase contrast, size, simplify text, improve organization of steps for personally relevant recipes. See which one would be easier to follow on the bottom picture?
3. Personalized grocery list template as an external language or cognition support to recall or verbalize which grocery items are needed.
Sleep better tonight knowing you are providing person-centered care! All references included in packet so you can show evidence to your colleagues.
The Real Life Speech Therapy Series will explore other activities, topics, and evidence going forward. If you want these ideas right in your inbox, sign up for email updates below.