Hi SLP's! Today is launch day for Book 3 (and the biggest labor of love!) for the Functional Treatment for Everyday Cognition Series: Task-Specific Language & Cognitive Supports! This book is CHOCK-FULL of practical, easy-to-implement, "why-didn't-i-think-of-that?" ideas and pictures that illustrate how no-tech supports can meet practical, functional needs for the language and cognitive-impaired populations we work with! This book is based off ample evidence that external aids and environmental modifications help improve functional outcomes. Our work doesn't have to be rocket science to make a real difference in someone's everyday life.
Psst: In case you missed it: The Functional Treatment for Everyday Cognition Series is part of my mission to bring affordable, understandable, efficient, evidence-based, useable, functional therapy materials to other SLPs.  If you have that deep-down knowledge/feeling that games and worksheets aren't really cutting it for our neuro patients…. but aren't sure what else to pass the time with in therapy, then this series if for you! Evidence tells us there are TONS of treatment methods we can apply to make a functional difference in our patients' lives!
And now, on to Book 3: Task-Specific Language & Cognitive Supports:
What are Task-Specific Language and Cognition Supports? This term encompasses any support that helps someone better participate in a task that has been impaired because of language or cognitive challenges. A task-specific support falls under the category of "External Aid." It's a physical tool that is used to improve success or participation. This packet specifically includes no-tech supports that are specific to certain life participation goals in the neurogenic population. I've organized the idea list in Book 3 into Signs / Notes, Checklists, Pictures, Labels, & Modifications.
What are Environmental Modifications? Environmental Modifications differ from supports in that they adjust or modify a situation, rather than adding another tool or support. In many examples, the lines are blurred for me if something is a support or a modification, but this distinction doesn't really matter because both are supported by research to improve functional outcomes when used in a personally-relevant setting or for a personalized task.
Why should I use a Task-Specific Support or Modification? External Supports (including low-tech, task-specific) are highly supported in research to promote improvement in activity and participation with the brain injured population. These supports can be used to compensate for challenges with language, attention, memory, problem-solving, and executive functions. They are also known to improve life participation with aphasia when designed with personalized language and appropriate length / font for a particular situation.
Who should I use Task-Specific Supports or Modifications with? The use of external supports is recommended as a practice standard for both pediatric and adult brain injury (see Sohlberg et al., 2007). Careful consideration of use of technology vs no technology is recommended (see Sohlberg & Turkstra, 2011). No further practice guidelines have been noted in literature. Task-specific language supports are consistent with the Life Participation Approach to Aphasia, which emphasizes return to meaningful life activities from the beginning. This book addresses only no-tech, task-specific cognitive and language supports.
How do Task-Specific Supports or Modifications relate to a person-centered approach? Task-Specific Supports or Modifications are individualized based on a person's life needs and preferences. It's all about personally-relevant needs and goals. Instead of "one-size-fits-all", this approach uses creative, personalized solutions to meet a particular need. This matches the person-centered care treatment model!
I'm feeling a bit overwhelmed; that was a lot of research-talk and not a lot of everyday therapy: Great news, you guys. I'm a regular SLP too. I'm not a professor or researcher; but I like to know I'm providing the best functional care I can, backed by research! I've taken hours to read research and boil this concept down to therapy materials that are efficient, understandable, and useable for the everyday SLP across settings.
Here's what you can expect to find if you purchase Book 3: Task-Specific Language & Cognitive Supports:
Book 3: Task-Specific Language & Cognitive Supports provides dozens of no-tech, task-specific ideas, examples, and templates as a launchpad to improve participation in daily activities across multiple settings! This technique is simple yet effective and supported by research to make a real difference in everyday life. Functional needs include "by-setting" examples, and are organized by Notes / Signs, Checklists, Pictures, Labels, & Modifications. This 2-part download includes:
-26 Page download with dozens of ideas + picture examples organized by category AND by setting for a launchpad of ideas, Goal Setting examples, Documentation templates, In-Session forms, and Home Program template. Everything you need to use in therapy!
-18 Page download with CUSTOMIZABLE notes / signs, checklists, and label templates. Use as they are, or modify to meet the perfect needs of your patient population!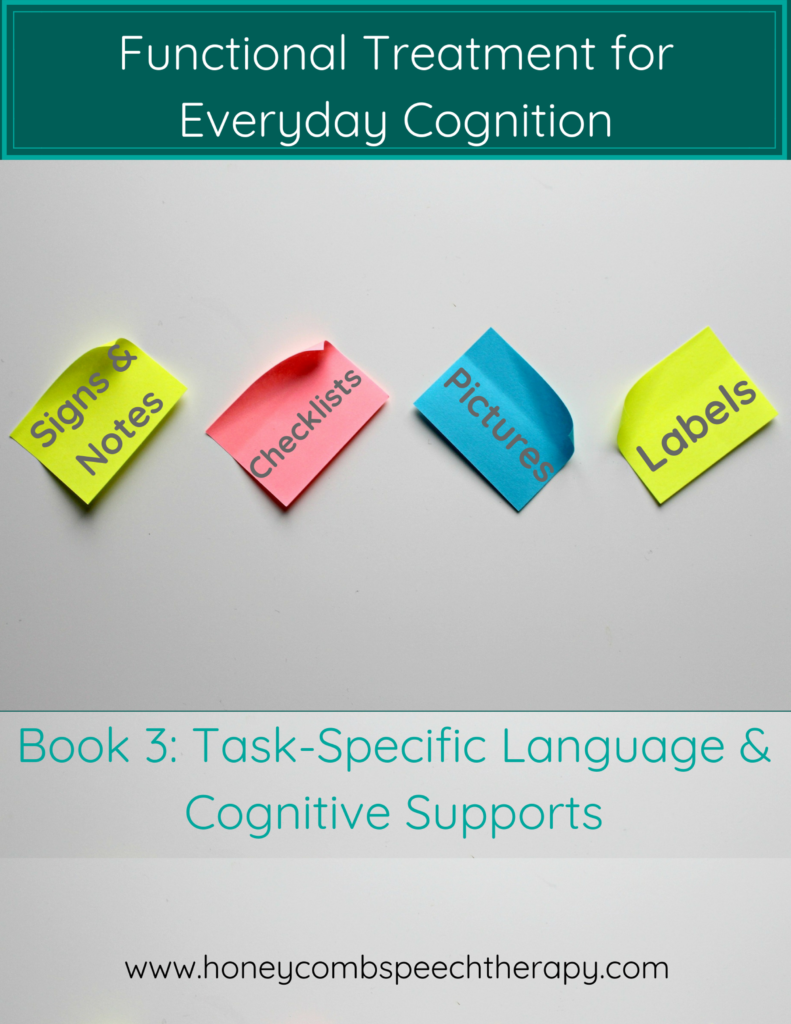 Make sure you get the latest functional therapy updates: Follow Honeycomb Speech Therapy on Facebook , Pinterest, or Instagram, or sign up for email updates below.