Functional Assessment + Goals Bundle
Person-centered care is a must going forward: We need to show how our speech therapy is improving participation and making a real life impact. The Functional Assessment + Goal-Setting Bundle will make sure you start off on the right foot from Day 1 to shape your practice in a way that meets functional needs.
This 36-page download includes printables and examples including:
Functional Need Interview Checklists, organized by setting

Contextual Observation Prompts, organized by setting so you can actually observe certain activities if desired, in 1 minute or less.

Step-By-Step Instructions, Examples, and Templates so you can write better goals using Goal Attainment Scaling, Goal Mapping, Self-Anchored Rating Scales, and Broadening What You Measure.

Examples for acute care, inpatient rehab, subacute rehab / long-term care, home setting, work setting, and student functional needs

Examples for "Putting It All Together" 

BONUS: Motivational Interviewing Cheat Sheet + Clinical Phrases ($5 value)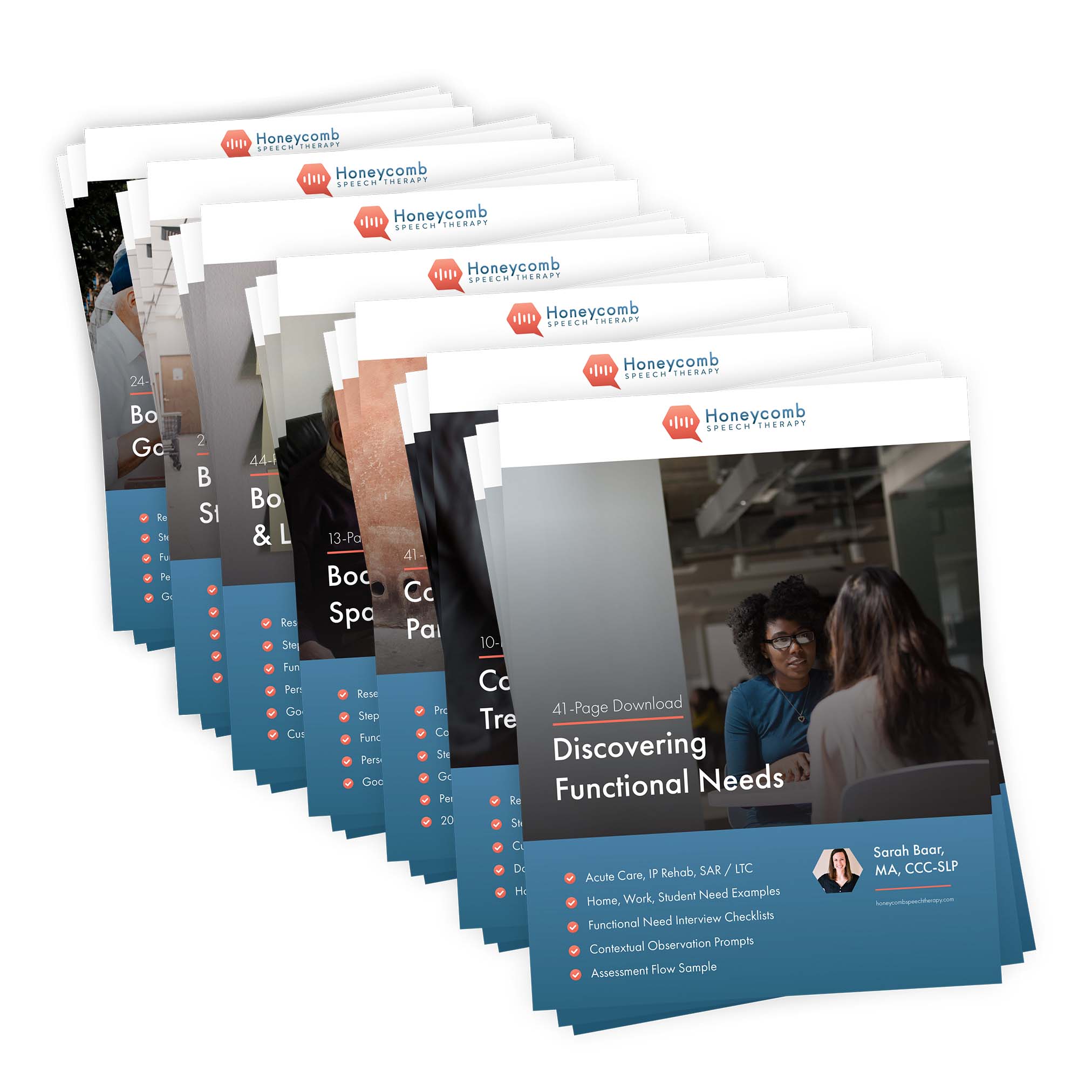 Bundle & Save!
Honeycomb Speech Therapy: The Complete Collection
Commit to providing person-centered, functional therapy for your clients with language, motor speech, and cognitive challenges. Order the Complete Collection for a comprehensive (and economical!) solution:
Includes:
Functional Treatment for Motor Speech Disorders (Value $40)

Functional Treatment for Cognition (Bundle Collection) (Value $42)

Functional Treatment for Aphasia (Bundle Collection) (Value $44)

Functional Treatment for Mild Cognitive Impairment (Value $35)

Person-Centered Assessment + Goal-Writing (Bundle Collection) (Value $18)

BONUS: Home Sweet Home Series ($20 value)
BONUS: Back To Work Series ($28 value)
BONUS: Med Management Packet ($5 value)
BONUS: Coffee Shop Packet ($5 value)
BONUS: Life Participation Handout ($3 value)
BONUS: Motivational Interviewing How-To ($5 value)
Add to Cart
View Product Details