Functional Cognition: Book 1 - Goal Management Training
Functional Cognition: Book 1 - Goal Management Training
Offered in English and Spanish, pages correspond exactly.
Book 1: Goal Management Training uses this evidenced-based treatment through a Goal-Plan-Do-Review process for real-life needs (anywhere from ordering food in the hospital to paying bills on time). This process has been shown to improve problem-solving, strategy use, self-regulation, organization, and life participation.
Libro 1: Entrenamiento del manejo de objetivos utiliza específicamente el proceso objetivo-planear-ejecutar-revisar, que es un tipo de Instrucción de Estrategia Metacognitiva. Este proceso ha demostrado que mejora la resolución de problemas, empleo de estrategias, la autorregulación, organización, y participación en la vida. Este paquete incluye Ideas de Necesidades Funcionales (incluidas "por entornos"), estrategias personalizadas y plantillas de ejemplo, establecimiento de objetivos y ejemplos de documentación diaria, formatos de documentación en la sesión para el Fonoaudiólogo/Terapeuta del lenguaje/Logopeda/Patólogo del habla y lenguaje  y la persona, y listas de evidencia y resúmenes.
This 24-page download helps you use the framework within real-life functional scenarios. This packet includes:
Research Summaries + Step-by-Step Protocol Cheat Sheet

Functional Need Ideas (by setting and category)

Personalized Strategy Ideas + examples

Goal-setting, Documentation Samples, + In-Session Scoring Forms
Descarga de 24 páginas:
Resúmenes de Investigación
Guía de Apoyo del Protocolo Paso a Paso
Ideas de Necesidades Funcionales
Establecimiento de Objetivos, Documentación, + Formatos de Puntuación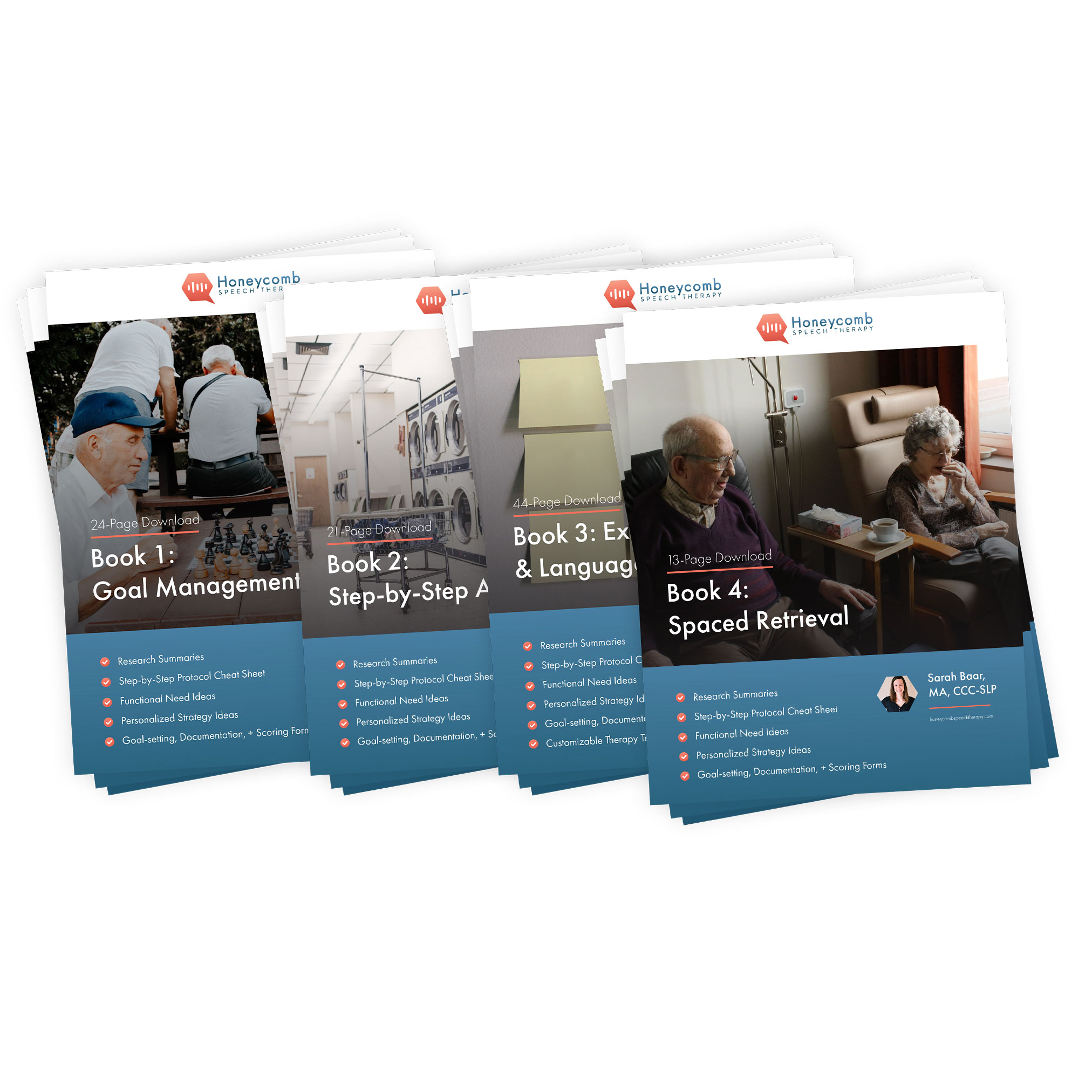 Bundle & Save!
Functional Treatment for Cognition Bundle (Books 1-4)
Offer flexible treatment options to meet functional goals for cognition with the complete collection of Books 1-4. The Bundle is a 115+-page download that includes:
Goal Management Training

Step-By-Step Activity Training

External Cognitive & Language Aids

Spaced Retrieval

BONUS: Med Management Packet with sample activities and goals
Add to Cart
View Product Details