Functional Cognition - Book 4: Spaced Retrieval
Functional Cognition - Book 4: Spaced Retrieval
Offered in English and Spanish, pages correspond exactly.
Spaced Retrieval is an evidence-based memory treatment supported for use with neurogenic and neurodegenerative populations, as a way to improve memory for facts and skills impacting function in everyday activities.
Libro 4:  Recuperación Espaciada es un recurso rápido y práctico para utilizar la Recuperación Espaciada con población con lesión cerebral adquirida. ¡Este tratamiento de memoria basado en evidencia está respaldado para su uso en las poblaciones neurogénica y neurodegenerativa, como una forma de mejorar la memoria de eventos y las habilidades que afectan la función en las actividades diarias! Este paquete incluye Ideas de Necesidades Funcionales, formato de documentación de la sesión, y ejemplos de objetivos y documentación.
This 13-page download helps you use the evidence-based memory intervention to meet real participation needs. This packet includes:
Research Summaries + Step-by-Step Protocol Cheat Sheet

Functional Need Ideas (by setting and category)

Goal-setting, Documentation Samples, + In-Session Scoring Forms
Descarga de 13 páginas:
Resúmenes de Investigación
Guía de Apoyo del Protocolo Paso a Paso
Ideas de Necesidades Funcionales
Establecimiento de Objetivos, Documentación, + Formatos de Puntuación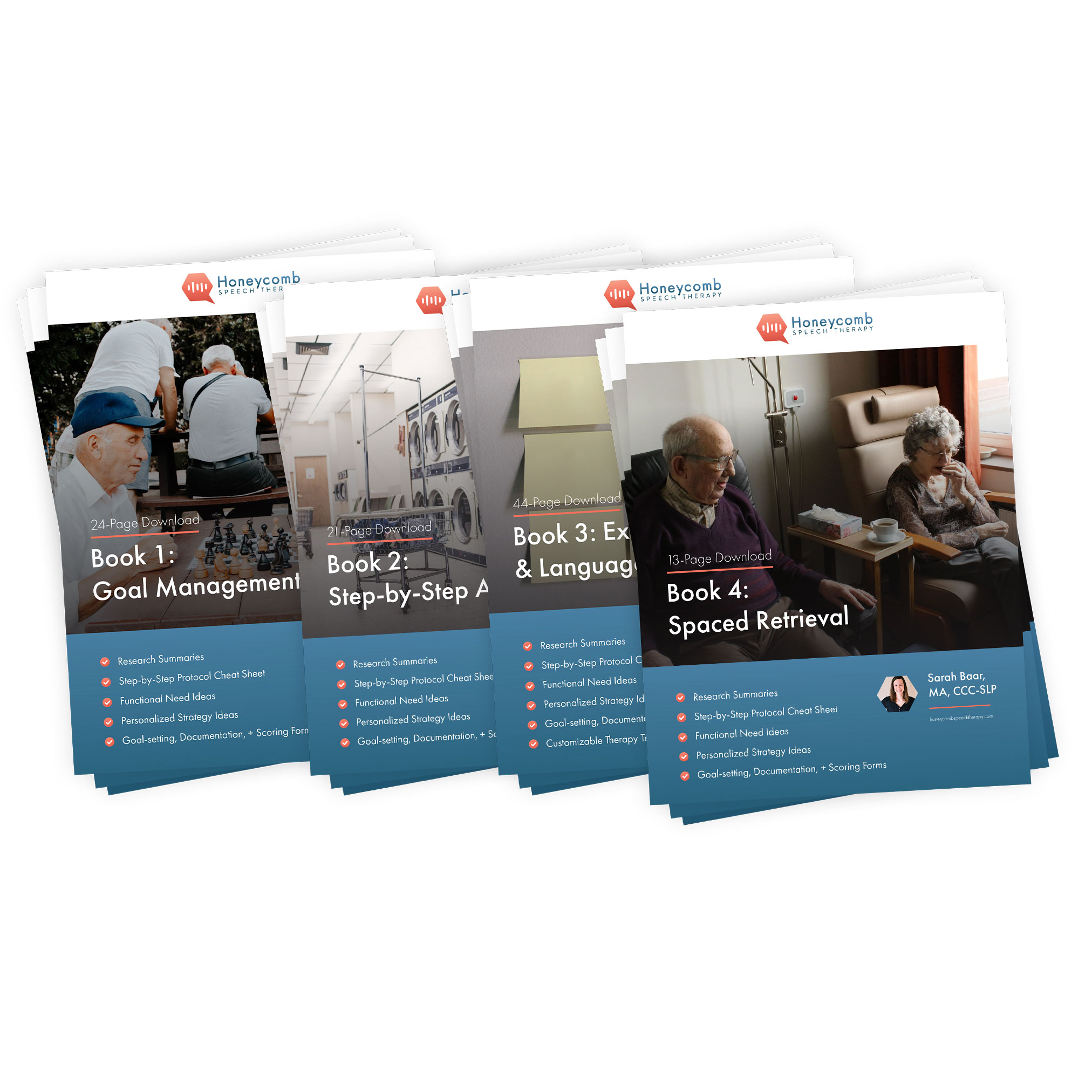 Bundle & Save!
Functional Treatment for Cognition Bundle (Books 1-4)
Offer flexible treatment options to meet functional goals for cognition with the complete collection of Books 1-4. The Bundle is a 115+-page download that includes:
Goal Management Training

Step-By-Step Activity Training

External Cognitive & Language Aids

Spaced Retrieval

BONUS: Med Management Packet with sample activities and goals
Add to Cart
View Product Details