Functional Treatment for Mild Cognitive Impairment
Functional Treatment for Mild Cognitive Impairment
Offered in English and Spanish, pages correspond exactly.
Functional Treatment for Mild Cognitive Impairment is a 65-page download for speech-language pathologists treating MCI. Focus on applying strategies, supports, and education within realistic scenarios for memory, in an individual or group setting.
El Tratamiento Funcional para el Deterioro Cognitivo Leve es una descarga de 65 páginas para los  Fonoaudiólogos/Terapéutas del lenguaje/ Logopedas/ Patólogos del habla y el lenguaje que tratan el DCL. Centrado en la aplicación de estrategias, apoyos y educación dentro de escenarios realistas para la memoria, en un entorno individual o grupal.
Download and go for your speech therapy sessions. This product includes:
Memory Needs Assessment + Goal-Setting

Holistic Lifestyle Education Handouts + Application

Internal Memory Strategies + Application Activities

External Memory Supports + Application Activities

Adaptable for Individual or Group Sessions

Realistic Scenarios for Contextual Practice
Descarga de 65 páginas:
Evaluación del Deterioro Cognitivo Leve
Educación sobre el estilo de vida para el DCL Establecimiento de Objetivos
Estrategias de Memoria Interna
Apoyos de Memoria Externa
Escenarios Reales para Practicar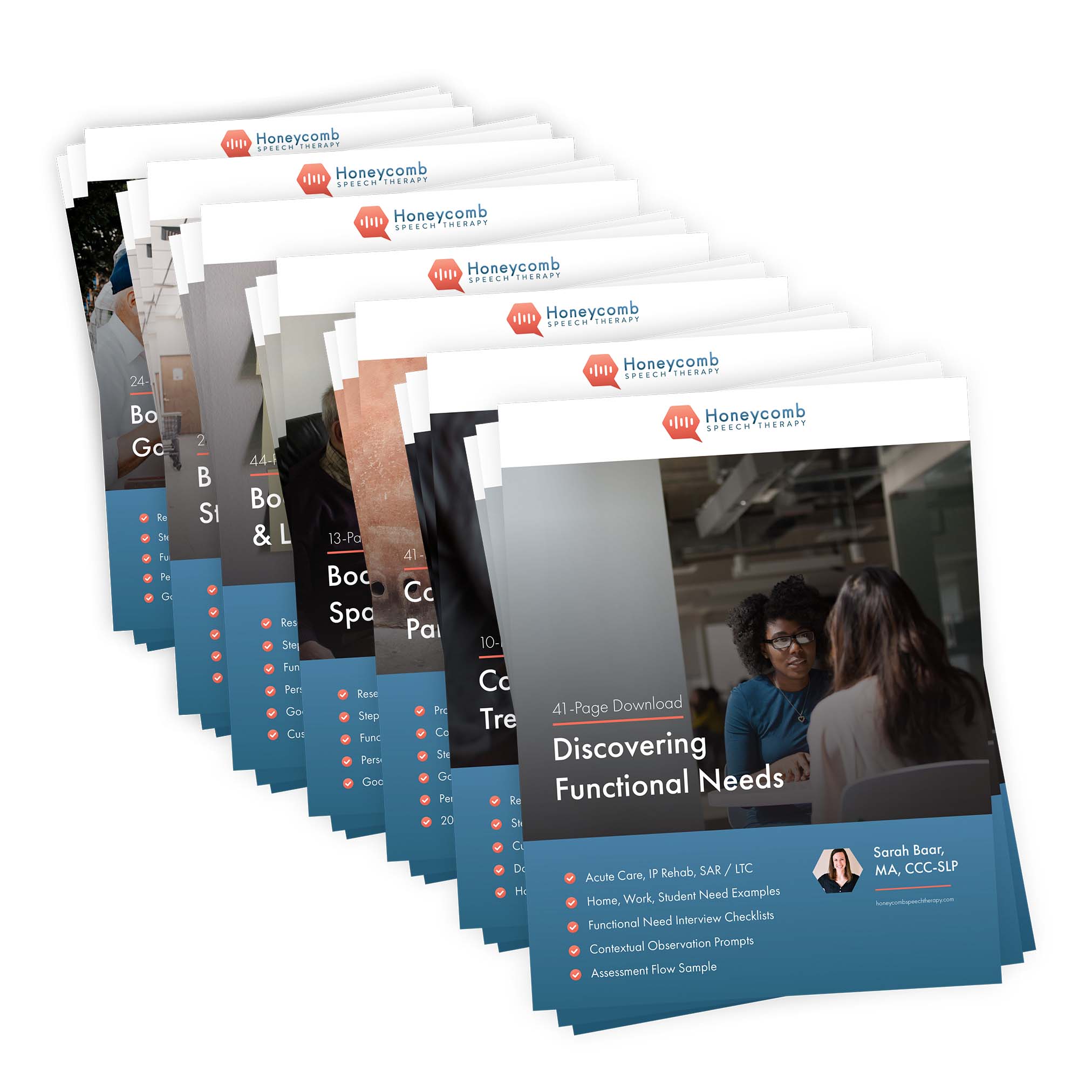 Bundle & Save!
Honeycomb Speech Therapy: The Complete Collection
Commit to providing person-centered, functional therapy for your clients with language, motor speech, and cognitive challenges. Order the Complete Collection for a comprehensive (and economical!) solution:
Includes:
Functional Treatment for Motor Speech Disorders (Value $40)

Functional Treatment for Cognition (Bundle Collection) (Value $42)

Functional Treatment for Aphasia (Bundle Collection) (Value $44)

Functional Treatment for Mild Cognitive Impairment (Value $35)

Person-Centered Assessment + Goal-Writing (Bundle Collection) (Value $18)

BONUS: Home Sweet Home Series ($20 value)
BONUS: Back To Work Series ($28 value)
BONUS: Med Management Packet ($5 value)
BONUS: Coffee Shop Packet ($5 value)
BONUS: Life Participation Handout ($3 value)
BONUS: Motivational Interviewing How-To ($5 value)
Add to Cart
View Product Details