Hi fellow SLPs!
To wrap up our 2017, I'm excited to share some of my absolutely favorite functional goal-setting resources. It was 5 years ago that I committed to learning how to make my practices as an SLP more "functional" (which I came to realize was all about Person-Centered Care!). Maybe you too are looking for some ways to dip your toes into the shift our field has taken to person-centered care: Today I am sharing the best resources for writing functional goals from my past 5 years of personal research, and a Writing Functional Goals Packet so you can jump into this right away!
psst: If you are new here, check out a previous post with some reasons for why Person-Centered Care matters so much!
Writing functional goals is at the heart of showing the value of what we do in speech therapy– to our colleagues, to the insurance companies, to the doctors, and most importantly, to our patients. Functional goals will describe the real-life change you aim to make with your patient–and it also fulfills the WHO-ICF framework for addressing activity and participation in our patients. Unfortunately, real life changes are often messy and not easy to quantify in a simple percentage.
Here's where the Writing Functional Goals packet comes in:
The "Writing Functional Goals" packet is a how-to, templates, + examples using several evidence-based frameworks that can be used for functional, meaningful goal-writing (focused on activity and participation!). These step-by-step resources were created with the everyday SLP in mind, specifically for working with adults. Please copy goal samples (or personalize your own!) so that you can easily paste them into whatever documentation system you may use in your job setting. 
This 26-page download includes key references, step-by-step directions, and goal examples for the following evidence-based frameworks for goal-setting:
Goal Attainment Scaling Process: Includes Goal Attainment Scaling Template (print this over and over with different patients!), and 6 examples of how Goal Attainment Scaling can be used to meet different functional goals
Goal Mapping process: Includes Goal Mapping Template (print this over and over with different patients!) and examples of how Goal Mapping can be used for cognitive and communication goals.
Self-Anchored Rating Scales: Includes Self-Anchored Rating Scale template and step-by-step directions which can be used over and over with different patients.
Broaden What You Measure: Key reference and 11 functional goal examples using Cooking as a real-life topic.
Here's a small sample of what it looks like inside: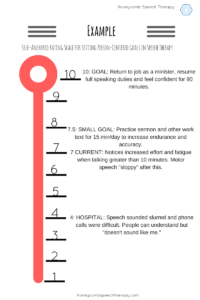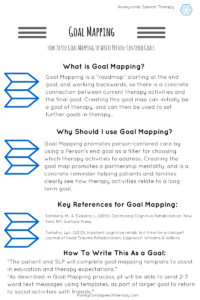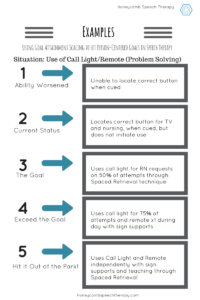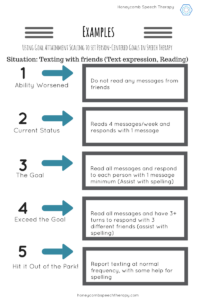 Is it time to make a speech therapy resolution for 2018? Start with writing person-centered goals! After that, you can always check out the Home Sweet Home Series or Back To Work Series if you need concrete therapy materials to help you focus on making a real-life difference in your therapy practices. Happy Holidays!