Functional Treatment for Motor Speech Disorders
Functional Treatment for Motor Speech Disorders
Functional Treatment for Motor Speech Disorders is a 70-page download for speech-language pathologists treating apraxia and dysarthria. Focus on meaningful treatment of motor speech activities by using evidence-based treatments with personally-relevant words and communication practice.
Download and go for your speech therapy sessions. This product includes:
Step-by-Step protocol summaries for evidence-based treatments including Be Clear Treatment for Dysarthria, Rhythmic Speech Cueing, Sound
Production Treatment, Motor Learning Guided Treatment, Contrastive Stress Sentences, and the Eight-Step Continuum for Apraxia
Personalized Communication Strategies to trial, organized by motor speech modality
Goal-Setting and Documentation Samples
Home Program Templates & In-Session Scoring Forms
Meaningful Word / Phrase / Stimuli samples and resources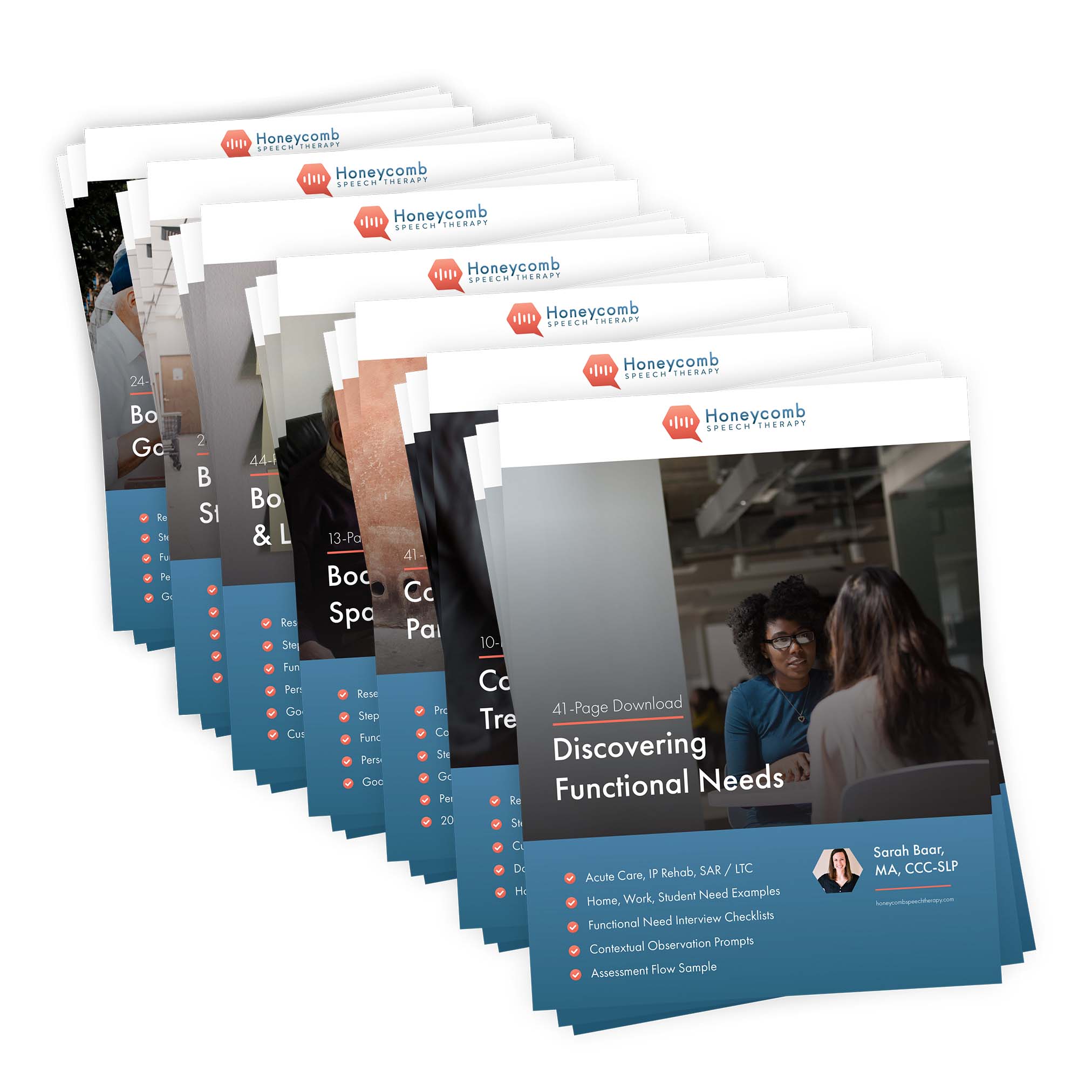 Bundle & Save!
Honeycomb Speech Therapy: The Complete Collection
Commit to providing person-centered, functional therapy for your clients with language, motor speech, and cognitive challenges. Order the Complete Collection for a comprehensive (and economical!) solution:
Includes:
Functional Treatment for Motor Speech Disorders (Value $40)

Functional Treatment for Cognition (Bundle Collection) (Value $42)

Functional Treatment for Aphasia (Bundle Collection) (Value $44)

Functional Treatment for Mild Cognitive Impairment (Value $35)

Person-Centered Assessment + Goal-Writing (Bundle Collection) (Value $18)

BONUS: Home Sweet Home Series ($20 value)
BONUS: Back To Work Series ($28 value)
BONUS: Med Management Packet ($5 value)
BONUS: Coffee Shop Packet ($5 value)
BONUS: Life Participation Handout ($3 value)
BONUS: Motivational Interviewing How-To ($5 value)
Add to Cart
View Product Details