Let's get functional! The Activity Studio access includes hundreds of ready-to-go therapy tasks for speech, language, and cognition: each Activity topic focuses on realistic tasks, so our clients can practice Participation through speech therapy.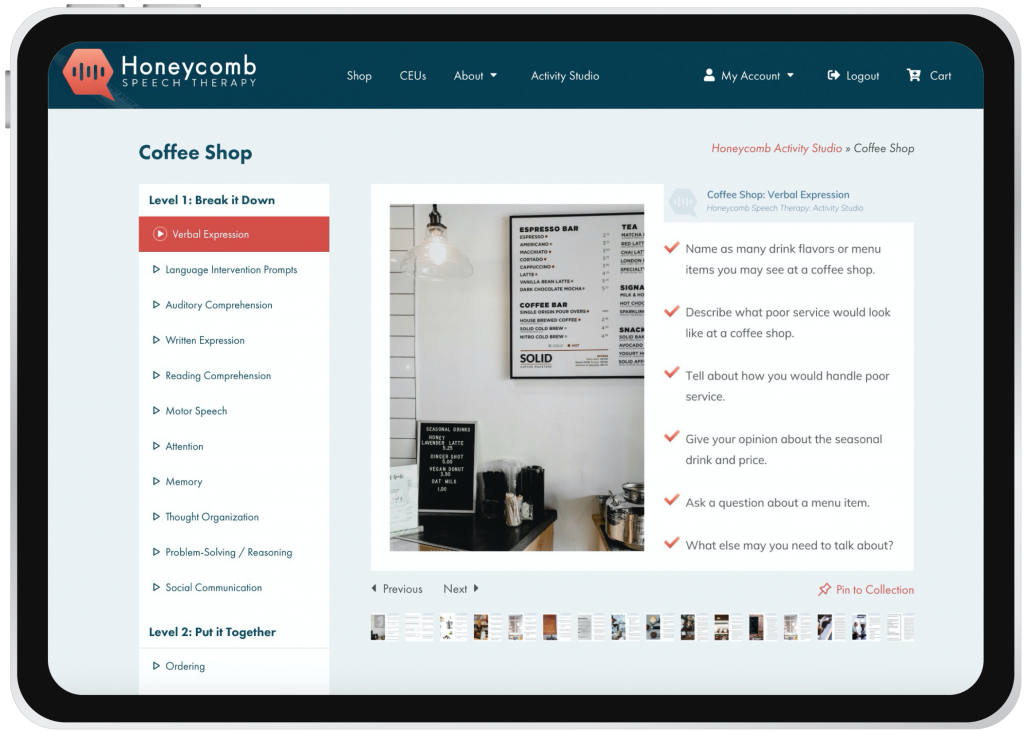 The Honeycomb Speech Therapy Activity Studio comes with everything you need to focus on participation – by targeting language and cognition within meaningful activities in speech therapy.
Use ready-to-go Therapy Activities on a screen or print.
Promote great outcomes and patient satisfaction, based on research principles. See references about targeting Participation in therapy

HERE

.

Save so.much.time on therapy planning.
Practice real-world activities for speech, language, and cognition. No matter what you're targeting, your client can pick the Activity topic!
Access the newest and ever-growing Activity topics within the Studio.
Know with confidence you are making a meaningful difference through speech therapy
"THANK YOU SARAH! You have truly created a one-of-a-kind resource gold mine! Everything is so easy (and ready) to use. I loved looking through all of the materials and cannot wait to use it with all my patients! I truly believe this is going to help both my patients and myself feel more comfortable and confident that therapy is really making a difference!"
SPEECH LANGUAGE PATHOLOGIST
"I have been a huge fan of Sarah's products for some time now. She is so passionate about creating materials to help clinician's achieve functional outcomes with their patients. I use her materials on a weekly basis."
SPEECH LANGUAGE PATHOLOGIST
"The Activity Studio has decreased my session prep time and allowed me more time to focus on engaging with my patients. The activities are adaptable, vibrant and cover a wide range of functional topics. I can see this product easily becoming my go-to resource in my outpatient neurology clinic!"
SPEECH LANGUAGE PATHOLOGIST, PhD
Get the Activity Studio for $10/ month. Get started today.