You want to use a person-centered care approach — working on meaningful goals and activities with the person you are treating — but it's just SO. HARD. to know how to do that when all you have is a standardized score from the CLQT (see also: MOCA, WAB, RIPA, WJ-III, TEA, and on and on).
You're not alone! It's really hard to figure out a functional need when you've been focused on just getting those standardized scores. So what can we do about it? (*Practically. Realistically. We're ALL on a time schedule here.)
If you're just tuning in: This is The Discovering Functional Needs Series. I'm going to be blogging about real, practical tools (FREEBIES INCLUDED!) over the next several weeks so that you can feel at ease and prepared to treat with a person-centered approach from the get-go. This series is all about the Person-Centered Assessment process — and how we can start to use speech therapy in meaningful ways from Day 1.
This week, we're talking about Setting-Specific Checklists. And this happens to be a perfect time to introduce my latest store product: The Discovering Functional Needs Packet!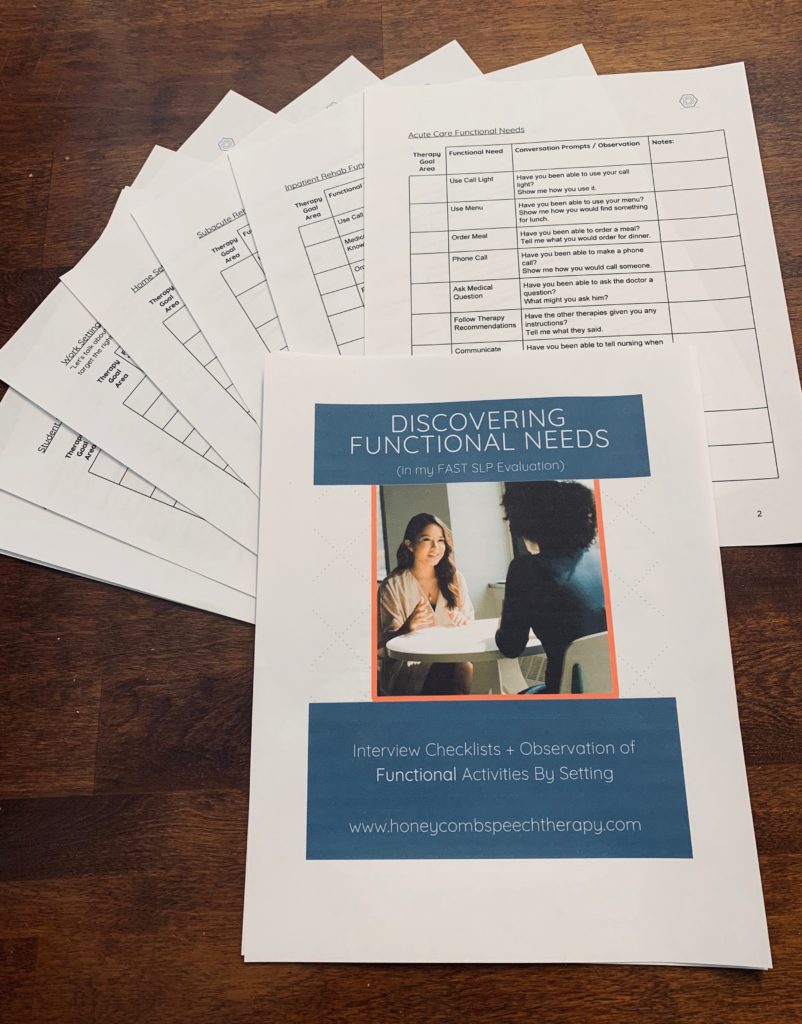 If you've followed my journey, you know that I've worked across a bunch of settings – acute care, inpatient rehab, home /community setting, outpatient therapy, and now private practice.
What I've noticed working across settings with patients in different stages of recovery is that there are some overlapping needs depending on the setting someone is in. And I think these common needs ("low-hanging fruit") are a GREAT place to start for meeting a functional need (but not having to spend a ton of time getting to know someone's very unique need — those needs can be met down the road as you naturally get to know them). As you start an assessment, you want to find the easy needs that will make a difference in the setting they are in.
I've also noticed that the typical standardized testing we are so focused on completing doesn't exactly give you insight into what some functional needs may be.
As a solution: I've created the Discovering Functional Needs Packet. This downloadable Packet is a series of Setting-Specific Checklists including:
*Acute Care
*Inpatient Rehab
*Subacute / Long-Term Care
*Home Setting
*Work Setting
*Student
Each 1-page checklist is designed to take a few minutes or less to ask someone about different needs they may need to do – the functional activities that can be used in goal-setting! After you complete the checklist, you will have specific needs that you can address in speech therapy. This is a non-standardized portion of your evaluation that will give you insight into activity needs.
*And speaking of non-standardized assessment: Did you know this very important part of our assessment time is a BEST PRACTICE across diagnoses?! (See ASHA Practice Portal for Aphasia, Dementia, Motor Speech, TBI, and MORE!) This is because the non-standardized portion gives you the vital information about context, activity needs, communication partners, environment, etc. that you don't glean from standardized testing.
So: Here we are. We should be doing non-standardized assessment, but we need to do this in a FAST, EFFICIENT way. The Discovering Functional Needs Packet includes the ways I've actually done this for a variety of settings and needs, from acute care to going-back-to-work to student to home health.
For August 2019 ONLY, the Discovering Functional Needs Packet is available to you for $6 – and then the price is going up. Get the deal HERE.
Stay tuned for next week as we continue to discuss tools that help you (quickly and efficiently) Discover Functional Needs in your Person-Centered Assessment.